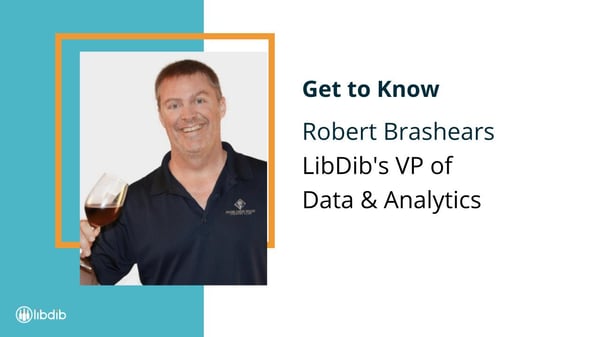 LibDib's growing team is a group of super interesting people passionate about the wine and spirits industry. That's why we've decided to launch a new blog series, "Get to Know" that will highlight a LibDibber each month. Our first victim is one of the original team members (employee #3), Robert Brashears. Robert is LibDib's VP of Data and Analytics, a role that he holds under the direction of his brother and partner-in-crime, Richard Brashears, LibDib's CIO. As you'll see from the interview below Robert is not only the brains behind LibDib's distribution platform, but he has a variety of interests that play right into our wine and spirits speciality.
Q: Robert, what do you do at LibDib?
A: I'm in charge of the Data Analytics Lab LibDib developed with RNDC. I work with all things big data including bringing product data into LibDib and eRNDC, as well as analyzing data and user interactions to make eRNDC and LibDib the best experience possible for wine and spirits buyers and sellers.
Q: What is your professional background?
A: I was educated as an electrical engineer and computer scientist at U.C. Berkeley and I had a 22-year career in Silicon Valley prior to LibDib. I've worked in a variety of technical jobs, starting with integrated circuit design then moving to Cadence Design Systems (an electronic design automation company) where I did a variety of technical and management software jobs including development, applications, consulting services, technical marketing, and management. I also worked with some colleagues to start a consulting company that applied EDA big data experience towards other industries including health care, financial and entertainment. After 7+ years of software consulting, I became the third employee of LibDib.
Q: What brought you to LibDib?
A: In my software consulting work, my partners and I were working on a mobile wine app when we met Cheryl Durzy, who was in the wine business and was a big supporter of what we were doing. I'm a huge wine geek! When Cheryl founded LibDib she approached us for advice on who to hire as her engineering team. The business idea sounded so promising and was in an area of personal interest to me (wine and spirits), that my brother and I decided to be the founding engineering team for LibDib.
Q: What's your favorite part about working at LibDib?
A: The content of the work itself. I love working with and analyzing data to develop modeling for real-life stuff. What we're doing has never been done in the wine and spirits industry and that's exciting. A close second is the incredible people that work at LibDib. They're very interesting, fun, funny, and hard-working.
Q: If you could have a drink with one person in all of history who would it be and what would be your libation of choice?
A: It would be Thomas Jefferson (Jesus and Leonardo DaVinci are also possibilities). I did a paper on him in high school and found him fascinating. Like me, he was a huge wine enthusiast. My libation of choice would be a French red wine of Jefferson's choosing.
Q: What do you do for fun?
A: I am very into cooking, wine and cocktails. I love the wine drinking experience and immersing myself during a tasting. I also love to try new cocktails and experiment with mixology. Another hobby of mine is exercising--particularly mountain biking. And as a dad, I love going to my kids' activities, such as my high school daughter's swim meets. Since I'm spending a lot of time at home during the COVID pandemic, I'm fixing a lot of things around the house which I like as well. I'm spending lots of time at home.