Welcome to the first installment of LibDib's multi-part series on E-Premise. E-Premise is a term we LibDibbers use often. It's really important as we think about the evolution of this industry. Now, more than ever there are three channels to invest in when developing a brand: On-Prem, Off-Prem and…E-Prem! We took some time to sit down with each of our E-Premise partners to find out more about their company and offerings to Makers. First up is Speakeasy, based in San Diego.
For the newbies out there: What is E-Premise? E-Premise is a "direct to consumer" (DTC) way to build a brand online. DTC is in quotes because these programs are within the three-tier system where all orders to consumers are fulfilled via licensed retailers. In the past, wine and spirits brands were separated from the end customer (sometimes by two tiers), but E-Premise strategies have ended that division, compliantly, and allowed for more visibility into the person buying and consuming that bottle.
LibDib has a handful of E-Premise partners including Speakeasy, LiquorStorefront.com, Reserve Bar, BevShop, Barcart, Thirstie,
City Hive, Big Thirst, Accelpay and Cask and Barrel. These companies provide compliant e-commerce sales via retail partners, all while giving the data and insights back to Makers. They ultimately enable Makers to sell their wine and spirits products to consumers via the Maker's own website or the E-Premise platform, as well as a "Buy it Now" capability.
Thank you to Josh Jacobs from Speakeasy, our first E-Prem partner to sit in the hot seat. Enjoy! And if you are a Maker interested in working with LibDib via one of our E-Premise partners, please reach out to us at makers@libdib.com. Now let's talk E-Premise!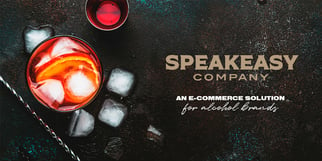 5 Questions for Speakeasy
What's your company's origin story?
A: It all started back in 2015, when we were racking our brains on how to democratize the cocktail industry and ultimately landed on a craft cocktail subscription box modeled after Blue Apron and BirchBox. Our mission was not only to introduce subscribers to new recipes, but really to focus on the most important ingredient in a cocktail, the spirits. Speakeasy Co. was our first foray into the beverage alcohol industry and our minds were blown when emerging Makers shared that our subscription box was one of the best marketing vehicles that existed due to the confines of the regulatory environment. Specifically, we learned from our initial spirits partners how difficult it was to connect with individual consumers and share their brand story when entirely removed from the end-customer transaction and accompanying data in a bar, restaurant, or liquor store.
From the getgo we challenged ourselves to think of creative ways to fuel the growth of supplier partners, and we have held onto this mission ever since. This drive, led by the direction of Makers, was the catalyst for significant evolution over the next couple years. The first iteration was reselling full size bottles on our website so subscribers could order the spirits sampled in a past box, which blossomed into a craft spirits marketplace. However, when we went back to supplier partners, they pointed out shortcomings with our model, and the marketplace model at large, around the lack of control over the user experience and ownership over data. To adapt, we created dedicated landing pages for each brand, where we hid all of the navigation, tailored the messaging to that particular Maker, included some branding, and instilled more confidence in driving traffic to our site.
Each successive step over the months demonstrated more signs of success and we continued down the e-commerce platform path. The defining moment was when a new potential partner said, "Josh, rather than a dedicated landing page on your website, can you build us our own site, where we have access to all the tools, capabilities, and analytics of a true e-commerce company, while still remaining compliant through your systems and relationships?"
At the end of 2017 we made the tough decision to completely pivot by sunsetting the subscription boxes to focus entirely on the platform that exists today, building out our logistics and technology capabilities, while giving our brand partners control over their own marketing, websites and growth strategies.
To this day, our vision remains - we are helping to democratize the beverage industry by empowering brands to share their story, connect with consumers, and take control over their own destinies.
Can you share with us your progress?
A: We are closing in on 300 brand partners on our platform and are growing every day! In order to support all of our Makers, we've also grown our team from just Michael and I, to a group of nearly 30 talented individuals.
Throughout the last few months, we've secured additional venture capital funding, signed key players such as Jagermeister, and worked to improve our logistics and technology capabilities, all with the goal of continuing to support our brand partners in offering their consumers the best brand experience possible through our platform.
One of our key recent successes was the launch of Tesla Tequila, where we showcased how beverage alcohol can be successful in an online only channel and highlighted our technology and fulfillment capabilities. We worked with Tesla and Nosotros Tequila on two launches of the product, both selling tens of thousands of lightning bolt shaped bottles, and the second selling out in less than an hour, resulting in one of the largest e-commerce alcohol launches ever with more than $10M sold.
As for more traditional beverage brands, we have a wide range of partners, with brands seeing anywhere from $10K in e-commerce sales to hundreds of thousands of dollars per month. For our brands who utilize our marketing services, we are seeing up to 4X ROI on their marketing spend for digital advertising. We are excited to continue watching our brand partners succeed with this burgeoning e-commerce channel, and are thrilled to be able to continue to revolutionize the industry.
What's the best way for a LibDib Maker to work with you?
A: We are here to partner with all Makers, whether it's wine or spirits, large or small. LibDib creates an amazing opportunity for a brand to work with Speakeasy by helping Makers launch wholesale distribution in the needed markets, all without minimums. Once live with LibDib, Speakeasy significantly increases reach by shipping to the majority of the U.S. population.
In addition to control of the digital front end, Speakeasy offers control over the physical unboxing experience as well. Our centralized fulfillment model is a major competitive advantage, enabling partners to go beyond the bottle and ship merchandise and accessories, all in one box. Crafting an elevated unboxing experience helps drive value and appeal over brick and mortar, where curating a novel shopping experience is not feasible. It also helps with the financials - if you have a value-priced product, you can utilize merchandise to increase your order values and absorb some of the costs of shipping, which we know can be a hurdle for consumers.
We also cannot emphasize enough the value of the data and visibility achieved via our platform. You'll be able to understand your consumers' demographics, geographic locations and purchase behaviors, and then utilize the analytics to improve marketing strategies. For example, you can A/B test Facebook ads, and evaluate which is more successful and exactly how much revenue each generates. Digital analytics will help you optimize marketing spend and generate higher ROI over time, making it an incredibly scalable channel. If you're working with retailers and wholesalers around the country, or looking to enter a new market, existing e-commerce sales are proven to be impactful for getting partners behind the brand.
Additionally, as a growing Maker, consumer specific information, like email addresses, are invaluable. After an initial purchase, you'll be able to email your consumers, re-target with other products and promotions, and continue the conversation over time to build repeat business and loyal consumers. If your forte is crafting great products, no sweat, Speakeasy can be your one-stop-shop and handle digital marketing as well.
Can you share a Maker success story with us?
A: The top selling LibDib Maker on the Speakeasy platform is routinely selling tens of thousands of dollars per month, and has potential to break into the six figures this holiday season. There are dozens of LibDib Makers already live, and another success story is with 1350 Distilling.
1350 Distilling is a Veteran, Teacher, and Woman-owned distillery located in Colorado Springs with a focus on local and American-made ingredients. 1350 touts a full lineup of spirits, from multiple whiskeys and rums to gin and vodka - each honoring American servicemen and women from different branches of the military. Their support for veterans goes beyond just the label; 1350 has pledged 10% of all profits to Veteran and local charities in their community. 1350 Distilling launched their Speakeasy eCommerce store in the 3rd week of November 2020, rolling out their entire lineup to eager followers around the country. Since then they've sold nearly 350 bottles through the webshop alone, and continue to see success with their core products and limited releases.
If you could give one piece of brand advice what would it be?
A: Marketing, marketing, marketing! An incredible product is table stakes, and building it does not mean they will come, especially for e-commerce. There is one clear differentiator between the partners selling tens or hundreds of thousands of dollars per month on the Speakeasy platform versus those experiencing less success, and that is a robust and professional digital marketing strategy. The encouraging data we can share is that startup partners are building their brands, creating lasting relationships, and driving sales online with significantly smaller budgets compared to brick and mortar--all while tracking the exact ROI. Brands can start scaling tomorrow, and faster than ever before, and we can even help with the marketing.
Interested in working with Speakeasy?
Contact them at partnerships@speakeasy.com