An Alcohol Distributor Picks Spooky Wines & Drinkable Spirits For Halloween
Looking to stock your shelves with spooky wines and spirits (the drinkable kind)? LibDib has an eerie selection for Halloween. Viruses, zombies, skulls--you name it, we've got it.
As a wine distributor (as well as a spirits distributor) we get excited about offering fine wine and liquor during the holidays. Halloween is just the start! Plus, we're an alcohol distributor with no minimums, so we allow you to buy a few bottles here and there to get your seasonal offerings going. Not many alcohol distributor companies can say that!
So, let's get the first holiday of the OND season started right. Whether you're a restaurant, bar or retailer, there's a number of cool new products to choose from.
Here are a few of our most haunted offerings as alcohol distributors: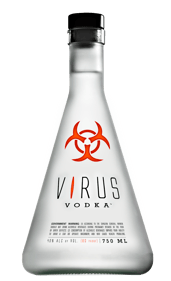 Virus Vodka says that legend has it that all of Earth's unique creatures derived from one main source. One main virus that spread and mutated into several strains to bring us Vampires, Werewolves, Zombies, and the like. All alcohol distributors know this premium vodka is spooky in all the right ways, except for the price. Made for the new generation of vodka drinkers, and perhaps some Zombies, Virus Vodka will leave your customers wanting more.

Zombies love wine too and now they have their own premium California offerings to choose from. The grapes for the Zombie Zin are sourced throughout California, mostly from the dry
sandy soils of the Delta region and the Central Valley. The final blend benefited
from some inky Syrah grapes that came from the Napa Valley. The wine was fermented in Stainless Steel and aged for about a half a year in American oak. The Zombie Zinfandel is very dark in color, almost a black-purple. The aromas are of ripe, dense black fruits and a hint of dried herbs. The flavors are complex and rich, sporting succulent blackberries, powdered cinnamon, cola, and cherry jam. It ends with just a hint of black pepper in the long finish. Perfect to pair with bloody BBQ meats, sinister soups with eye of newt, or a bubbly caldron of fleshy stew. The grapes for the Zombie Chardonnay come from the hot, sandy soils of the Delta region and the Central Valley. Its aromas are of rare honeysuckle and mouthwateringly-ripe tropical fruits. There is a temptation to remember golden apples, vanilla bean and succulent l
emon-lime flavors, ending with a forbidden finish of wild strawberries.
Please your Zombies this Halloween by offering them these two wines, an alcohol distributor exclusive.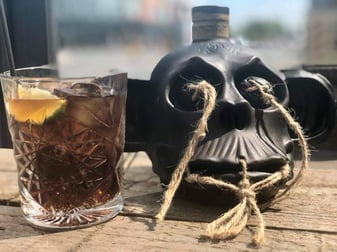 This rum is a rich, full-bodied, rum that is infused with locally sourced, decadently dark, slow roasted cacao. The delicate infusion process enhances the natural qualities of aged rum, allowing the chocolate and rum to exist in perfect balance. The monkey's open the cacao pods and eat the sweet fruit inside, but spit out the bitter seeds, allowing cacao trees to reproduce & spread. Without monkeys, there'd be no chocolate! We love this rum not only because it's delicious but the bottle would look great on any spooky isle or bar.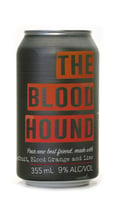 The Blood Orange Greyhound is made by infusing 503Distilling's vodka with dried grapefruit peel and grapefruit essence; then blending with fresh blood orange puree, grapefruit juice, and lime. With no added sugar and gluten free, this is a true grapefruit lover's drink. It is great any time of the day (or night for those goblins out there).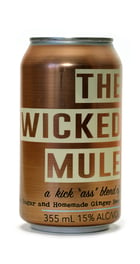 Alcohol distributors recommend, for your most wicked customers comes The Wicked Mule, a handcrafted cocktail that is made by infusing 503 Vodka with pureed ginger for several days. This gives it the spiciness and ginger bite that makes it wicked rather than the normal mundane ginger flavors of typical mules. After infusing the vodka, they add their hand-crafted ginger beer and a bit of lime juice to bring everything to a bar strength gluten free drink at 14%ABV. With 2 servings in each can, this is the cocktail that can keep any spooky event going from morning until the witching hour.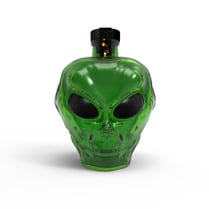 Planet X Vodka is a Certified Organic Vodka made in the Pacific Northwest using water that is sourced from a high alpine reserve deep in the Cascade Mountains. No Additives or preservatives, this is a planet-friendly in a fun bottle that looks like a green alien head.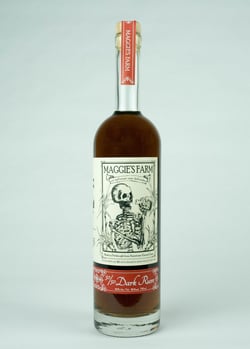 This rum sounds sweet enough but the skeleton image on the bottle will brighten any Halloween-themed shelves. Maggie's Farm Dark Rum is a blend of two different rums which are married in oak barrels for up to one year. The two rums are: Maggie's Farm white, distilled from turbinado sugar and made on a simple pot still; and, a twelve-year old Caribbean-made rum distilled in a column still from molasses. This creates a very complete picture of the world of rum and contributes to its balance and roundness. Maggie's Farm Dark Rum is truly suitable for sipping neat or on ice. Also can be enjoyed in new or classic tiki cocktails. It can be swapped for whiskey in most any whiskey cocktail such as a Manhattan, Old Fashioned, or Ward Eight.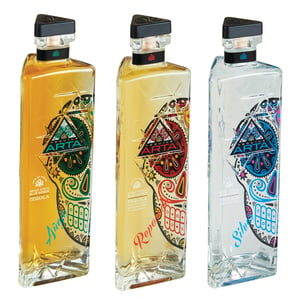 The bottle design of Arta speaks fine art and Halloween. Decorated with a sugar skull image, Arta is stylish and delicious. An approval from an alcohol distributor. They grow every agave plant they use and then slow cook them and rest them for a total of 24 hours in almbiques. They use our own aquifer-fed water and proprietary fruit-based yeast to create one-of-a-kind Arta taste. Unlike many other añejos, Arta is aged to the farthest edge for variety and would be savored when paired with rich meats and vanilla or chocolate desserts.