Makers are the lifeblood of LibDib and no one keeps our Maker business running more smoothly than Senior Portfolio Manager, Rachel Minor. She works with our Makers every day to make sure they are happy and successful. We sat down with her to learn more.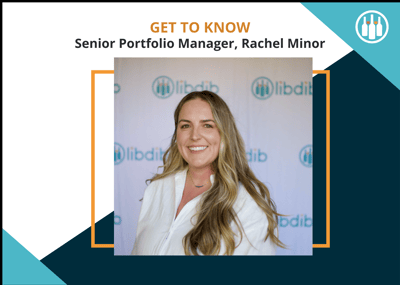 What do you do for LibDib? I am the Senior Portfolio Manager at LibDib. I get to work with our Makers on a daily basis and there is nothing else I would rather do! My claim to fame is that I started at LibDib three days before the COVID lockdowns so I had a few days in the office before we went virtual.
What is your background? At a young age I started at my family's HVAC company. I began in the front office answering the phone, filing and scheduling appointments. As I learned more, my responsibilities grew. I eventually moved on from HVAC into retail where I learned a lot more about customer service and how to fold clothes efficiently (iykyk).
I attended Sonoma State University. Within my first years there I had the opportunity to work at the Facility Center educating Professors. I learned how to use an online technology platform in the classroom. That is where my love of technology started to blossom. As soon as I turned legal drinking age, I visited incredible wineries and breweries. This resulted in me adding Wine Business Strategies to my Business Finance degree. I worked at a small family-owned winery in Sonoma, where I got to do everything from driving the winery truck to the Napa warehouse, to leading winery tours and tastings. That gave me real life experience on the Maker side.
After graduation I moved back to San Jose where I worked in the technology space at two rapidly-growing start ups: one in autonomous vehicles and the other in virtual reality.
What brought you to LibDib? Actually a Facebook post of all things. Someone I went to high school with posted that they were looking for a new job and if anyone had any leads. Aaron Sholl's cousin responded to the post, "Hey, my cousin works at this cool start up in South San Jose." I clicked the link to the job listing, learned more about LibDib and applied. I let the LibDib team know why I would be the best for the job and here we are a little over two and a half years later. I still love LibDib as much as I did on my first day!
What's your favorite part about working at LibDib? My favorite part about LibDib is getting to interact with Makers, partners and my colleagues. A day at LibDib is never boring. You never exactly know what is going to come up but it is always a fulfilling day!
If you could have a drink with one person in all of history who would it be and what would be your libation of choice? I would love to get the chance to share a pitcher of margaritas with the Wright Brothers. (Orville Wright and Wilbur Wright)
What do you do for fun? When I am not LibDibbing, I enjoy traveling. I have had the chance to travel to 8 U.S. National Parks, 43 States and 17 Countries. I love exploring new places, I think it comes from growing up as a Navy Brat. I had the chance to live in 7 different states **First one to send me a message with the correct 7 States gets a drink on me ;)** I have a goal to hike in all 63 US National Parks.