At LibDib, customer success is at the core of our business. We pride ourselves on being a three-tier distributor where customers feel taken care of. Whether a bar, a retailer, or a restaurant, customers drive our business.
Our most recent 'Get to Know' post features Rose Martins, LibDib's Customer Success Manager who keeps things going, always with a smile on her face. She's passionate, kind and an all around great person to work with.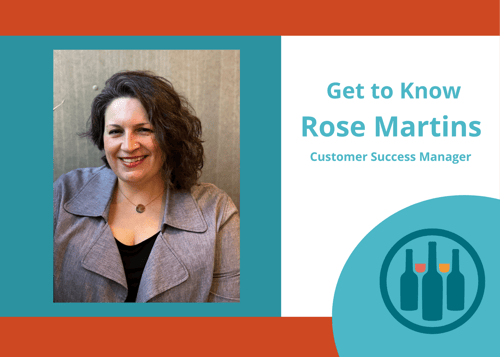 What do you do for LibDib? I am the Customer Success Manager. I work with a great team of passionate individuals who keep customers' experience front of mind. I really have the best job! I get to build relationships and help thousands of LibDib's customers grow their businesses through unique and small-batch brands.
Customers need timely responses to resolve an issue when it occurs. They also want to be informed of cutting edge solutions that drive revenue. For example, e-Commerce and retail partnerships. I love opportunities to help in the success of others, resolve issues and help Buyers navigate great offerings. We all win together.
These last two years have highlighted consumers' desires to try new things and curate home bars with products that are not on every shelf. What I love most about this job is the desire the industry has to support, and drink, local and family-owned brands.
What is your background? My first paying job was as a server in a restaurant, which was a very humbling and skill building experience. From there, I went into retail sales and spent the majority of my years in retail sales and customer service. Throughout my career, I have been fortunate enough to be trusted to lead teams. Being in leadership positions has taught me that my greatest satisfaction is helping others be successful. Colleagues and customers alike.
What brought you to LibDib? I was lucky to hear a bit about LibDib in the beginning stages and always thought it was a super innovative way to navigate the three-tier system. I love how we give Makers a platform to distribute their products and Buyers a marketplace to discover the unique products consumers want.
What's your favorite part about working at LibDib? Working with the great LibDib team and finding new ways to delight our Buyers. Customer success has been a passion of mine since I can remember. I appreciate a good customer experience. Being helped by someone who genuinely cares about the customer is what I aim to do every time with our Buyer's experience. I believe that my success is measured by the success of our customers. I also get to be involved in new platform development when it comes to providing a better way to service our Buyers. We recently launched a new Buyer homepage and it truly elevates the LibDib experience!
If you could have a drink with one person in all of history who would it be and what would be your libation of choice? That wish is hands down my paternal grandfather. To be able to share one more drink with him and give him one more hug and kiss would be a dream come true. I definitely did not get as much time with him as I wanted, but every moment we shared has been some of the greatest moments in my life. We would be drinking homemade wine and homemade aguardente.
What do you do for fun? Living in the Bay Area, I love getting out for a nice nature walk and exploring new areas. Spending time with family and friends is important to me, even if that means flying half way across the world. It is never about what you are doing, it is always about who you are doing it with.