MICO Tequila is a craft tequila line launched in 2019 by Subir Singh and his father, Ajendra Singh. Ajendra was a former Patron executive who really knew artisan tequila and how to navigate the supply chain. He and Subir started MICO with a focus on developing artisanal tequila, produced in small batches. During Ajendra's time in Jalisco, he formed a tight bond with Juan and Anotonio Nunez, who have been producing tequila in the Highlands since 1937. As Subir and Ajendra were seeking partners, they naturally reached out to their close friends. Karina Rojo, MICO's master distiller is part of this team, one of a handful of female master distillers producing tequila in Jalisco today. She crafts proprietary blends of Blanco, Reposado, Añejo, and Extra Añejo.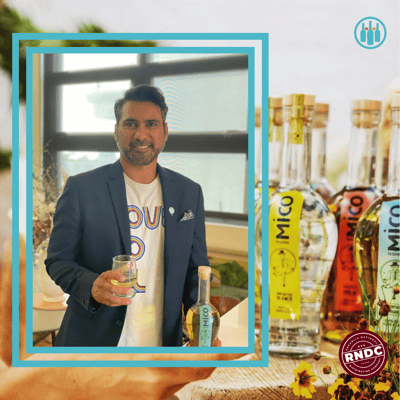 In the beginning, MICO approached several large national distributors. They had conversations with a few, including LibDib's
partner, RNDC. RNDC told the MICO team that in order to secure distribution they would need a proven record (i.e. sales) and introduced MICO to LibDib.
Right away Subir and his team knew that they found the right platform for growth. LibDib was a great source for connecting with Buyers. "We were small and needed a way to reach the market," said Subir. "LibDib was approachable and offered a lot of account support. They also understood our needs in the digital space."
MICO started to grow their brand, with a focus on selling in California and selling digitally. Then the pandemic hit. For many brands the supply chain was drying up, but MICO wasn't having issues. Based on the years of experience and the relationship building of Ajendra, the supply chain was well established. MICO had the tequila (and bottles) needed to continue to supply the marketplace.
While the premium tequila category continued its path to growth, Subir began to notice an explosion in the RTD market and found consumers were being more health conscious with their selection of spirits. The MICO team wanted to capture the daytime tequila drinking consumer, so they crafted several small-production, tequila-based seltzers. They targeted these products at the savvy women who were drinking high-quality tequila.
Since retail was more of a focus for the RTDs, MICO went to LibDib to ask for support. They knew LibDib had relationships with the large chains in California. With LibDib's guidance, Subir reached out to a national membership club reseller. They immediately showed interest in this new (and rapidly growing) category. MICO conducted the first meeting over Zoom. They presented the MICO tequila seltzers to the chain Buyer who decided to pick MICO up on a seasonal basis. Subir said MICO was one of the first tequila RTDs at the time and the club could see the potential.
The club retailer wanted to offer something unique for their customers so MICO created a custom 12-pack of tequila seltzers. It was a seasonal program, rather than a permanent placement, but the seltzers did well in the store and sold through. Subir said, "LibDib allowed us to get access to this key national Buyer."
The club Buyer loved the concept and MICO was able to secure a three-month slot with all 29 of the store's California accounts. Due to COVID protocol, customers couldn't sample so there were some challenges. However, MICO used these challenges to learn more. They realized it was a great consumer package and confirmed that the team could turn around a custom pack in 4 months. This also enabled them to open conversations with additional distributors and chains.
At the time the MICO team was also working with their restaurant Buyers, providing them with support. They used LibDib for Digital Requests (via the platform), which helped streamline the process and kept Buyers in the loop.
As they continued to grow, the MICO team also kept RNDC in the loop. "RNDC loved the story but we weren't at the right level for them to take on our brand. I continued to update them on how we were growing," said Subir.
Once the deal with the club Buyer continued, RNDC was able to bring MICO aboard. Subir said the LibDib partnership really helped with that process.
"RNDC saw the opportunity for our brand," he said. "It is a female-made craft tequila targeting women who want to drink authentic tequila. We segmented a market that not a lot of brands were targeting. We saw women wanting tequila."
They also shared their list of accounts with RNDC, which not only included the major club Buyer but farm-to-table restaurants, high-end hotels, and modern Mexican restaurants. They grew a solid list of on-premise accounts who were selling craft tequila to their customers.
In MICO, RNDC saw an opportunity to add a craft label to their portfolio. It was something unique and vibrant and RNDC picked up the brand. Together MICO and RNDC began to grow it to the next level.
"The MICO graduation story is the epitome of our LibDIb mission," said Cheryl Durzy, Founder and CEO of LibDib. "It's also the reason we chose RNDC as our key partner. Every brand deserves a chance to enter the market and prove themselves. MICO proved themselves through a lot of hard work and focus."
"The day they graduated to RNDC I was so happy. Our team watched them grow and we knew it was time for big distribution," added Durzy.
Subir said, "The evolution of our brand at LibDib allowed us to lay down our story, gain traction and grow the number of cases we had in distribution. It set us up for RNDC. LibDib helped us with those amazing first placements in clubs and chains, and really gave us an opportunity to grow."
So what does MICO have to share with brands who are either starting out or looking to incubate with LibDib before graduating to a large distributor?
"LibDib is the perfect model for brands to incubate," said Subir. "They are very easy to work with and the onboarding is simple. There's not a lot of cost to do business with them. Also, we found that accounts love them. When accounts ask who our distributor is and we say LibDib, they get very excited."
Subir said that when brands start with LibDib they don't have to spend a lot of money to build it. He said Makers should set up their brands well on the LibDib platform. Then, they should really hit the ground running in terms of sales.
"At the end of the day it's all about cases sold," Subir added. "When I launched MICO I focused on margin. Now I tell others to lower their guards a little bit. Make sure pricing and programming are competitive. Really focus on the things that are going to drive cases sold."
That's what is going to get the attention of the larger distributors. Subir said that RNDC will love the story and the people behind it, but at the end of the day they want to see the cases sold. He advises leveraging LibDib to drive selling cases at accounts.
"When you tell RNDC that you have a proven account strategy that works and you have volume, they most likely are going to pick up your brand, especially if you've done the work," said Subir. By that he means you identified your market and implemented programs. You were able to sell your brand. That way the larger distributors know you have the tools and work ethic to grow that brand.
For brands limited in funds, Subir said to look at your sales strategy. Work on the micro opportunities in your local area. Specifically target accounts in those areas that are a fit for your brand and make sure you can really service those accounts.
This approach is what set them up for RNDC. They are now building a program and moving into other markets with RNDC and other distributors. They've gone through their growing pains but they are using their tools to build each market carefully.
Today MICO is with RNDC in California and with LibDib@RNDC in Texas. Their plan is to grow in both markets, and execute on the story of MICO Tequila and their master distiller. They are also trying new things like expanding on their wine-cask finished line of Reposado, Añejo, and Extra Añejo, and looking to expand their footprint in their current markets. Subir said, "We're still a small company doing really unique stuff."