By Trishalee Noonan, LibDib's Reseller Experience Manager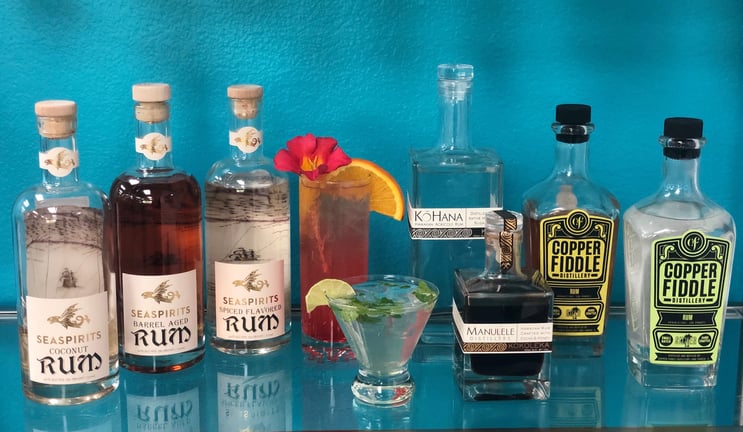 There's a rum revolution going on in the spirits industry. Small production, craft rum is taking center stage and gaining popularity. Why? As we see it, there is a growing number of damn good small rum producers making artisanal products. These new rums will spice up your summer cocktail list!
Our rum Makers are focused on specific varieties of sugarcane, specialty molasses and barrel aging as the basis of their rums. Some of the sugarcane is the rarest of the rare and is grown in specific places known to harness the best flavor (yes, this conjures up wine and terroir for us too). These rum artists then harvest, crush, ferment, and distill the sugars into hand-crafted spirits that will be like nothing else you've ever tried. Trust me, as somone who has served rum drinks for years, I can tell you that these rums are so smooth you won't even need a mixer (but taste amazing in any rum-based cocktail),
So who are these artists changing the rum game? While there are many out there, here are some of our favorites.
Aussie golf legend Jan Stephenson has created several amazing rums, including Mango, Pineapple, Passionfruit, and Silver that are made in America. They are delicious on their own or in your favorite drink. We also like that they are non-GMO and organic.
Produced in Pittsburgh, PA, Maggie's Farm White Rum is pot-distilled from Louisiana-grown turbinado sugar. This sets their white rum apart from most others, which are distilled from molasses. Maggie's Farm has a character similar to demerara rums with some of the grassiness of rhum agricole. It is lively, fresh-tasting and aged approximately six months in stainless steel for additional flavor development. A great rum for traditional shaken daiquiris or any cocktail really. We also love that as part of their pet rescue program, they donate $1 of every bottle of their core rums purchased (white, spiced, or dark) to animal rescue shelters in the area of purchase.
Out of Boston comes a number of amazing rums from Liberty Tree. The Liberty Tree Boston Rum, is a superb barrel aged rum of superior quality and complexity. This rum is aged for a minimum of 2.5 years in single use bourbon barrels. They age a portion in new 30L French Oak and American Oak Barrels. They also produce a Cape Cod Great White Rum that is handmade from molasses and brown sugar. It is then aged in used bourbon barrels for up to 6 months and is filtered to perfection The result is an exceptionally smooth and drinkable spirit with enough depth and flavor needed for your favorite mixed cocktail.
Jose Hernandez, an architect, and Fred Robinson, a PGA Golf Professional, set out in the summer of 2012 to create their own unique, high quality spirits. "Copper" in the name represents the custom copper pot still used to produce their bourbon and rum. Copper Fiddle's Silver Rum is made from the finest sugar and blackstrap molasses available. It is distilled the traditional way in their American custom made solid copper pot still and is an intensely flavored rum. The Copper Fiddle Distillery Gold Rum is a bit different than your typical aged or gold rum. They place this product in used bourbon barrel wood to capture the color and flavor of the bourbon and oak. The result is remarkable, with a deep gold color. You can enjoy these rums on the rocks or with any number of island cocktails.
SeaSpirits Distillery is an exciting new craft rum distiller based in the heart of Woodinville, WA. They produce all natural spirits from cane sugar and hand selected ingredients. They have modernized the rum making process, combining technology and resources from all over the globe to make incredibly smooth and clean spirits. Their aged rum sips like bourbon because it is matured in small cask bourbon barrels making it very flavorful and rich. You can enjoy any of their rums neat or on the rocks.
Kō Hana is the maker of Hawaii's only Agricole rum. They are truly a small batch, farm-to-bottle distillery. They grow only heirloom Hawaiian sugar cane on their own farms. These are the rarest of all sugar canes as they were brought to Hawaii over 1,000 years ago by the ancient seafaring Polynesians. With over 30 different sugar canes in their collection, they harvest, crush, ferment, and distill in single varietals to capture the essence of each cane. The harvest date and cane variety is written on each bottle. The nose is vegetal and full of sweet scents and grassiness. On the pallet, the rum is soft with a mild sweetness. Butterscotch, banana, papaya, honey, fresh cream and lemongrass flavors intertwine with a hint of salinity creating a uniquely Hawaiian spirit like no other. Neat, on the rocks, or in your favorite rum cocktail, this agricole rum delights the senses.