It's Military Appreciation month and with Memorial Day and the Fourth of July approaching, we wanted to let you bartenders, mixologists, retail shop owners, and restaurateurs, know that you can support America's heroes by buying and serving wines and spirits made by or in supportive of, military veterans.
LibDib is proud to say that we now have 21 products made for/supporting veterans. We've even created a "Military Appreciation" category to make shopping for these products easy.
These craft spirits and small production wines are amazing. They are hand-crafted. Made by small business owners. Made in small batches. They are exactly the types of products your customers want.
So, if you're into supporting veterans, take a moment to check out these craft Makers on LibDib:
Black Patch Distilling Company - Bourbon Whiskey, Rye Whiskey, H.E.A.T.. (High Explosive Anti-Tank) Cinnamon Whiskey
- In 2007, during his son's first combat deployment master distiller, Gary Cooper, made his son's favorite whiskey. Having been a fanatical brewer and distiller for over a decade, Gary spent the time his son was deployed to perfect a whiskey to his son's standard. He named his company after the single black patch his son's unit wore in combat. Unfortunately, his son lost his leg in combat and to honor his sacrifice Black Patch Distilling Company donates a portion of every bottle sold to veteran charities.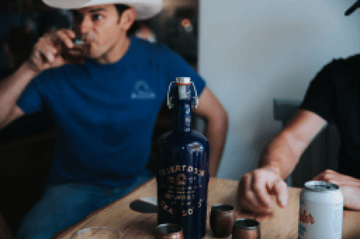 Desert Door Distillery - Original Sotol - Started by three military veterans, from different military branches, Desert Door is a craft distiller of a premium and unique Texas spirit known as Texas sotol. Their liquor is made from the sotol plant which they wild-harvest all across Texas, from Driftwood to Marfa. Sotol was the first alcoholic beverage ever consumed by humans in Texas 800 years ago, and the plant has been in use for over 13,000 years. Their sotol is smoother than whiskey, less smokey than mezcal, and it doesn't burn like tequila.
P&M Imports -
Italian Wines including Feudo Bianco, Feudo Rosso, Duvanera, Alicant, Tifeo Bianco
- P&M is a veteran owned beverage import, distribution and brokerage company. After many years of living overseas and enjoying the foreign beers that other countries had to offer, they returned to the United States hoping to find that many of the beverages they had enjoyed were not imported into the U.S. They started to import and broker for those interested in military sales. The wines they offer on LibDib are from Etna Sicilia, Italy.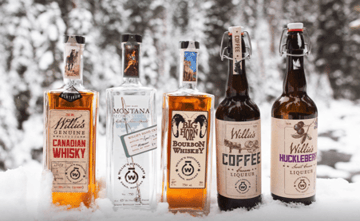 Willie's Distillery - Montana Moonshine, Honey Moonshine, Huckleberry Sweet Cream Liqueur - Born in a small town of 900 residents in southwestern Montana, Willie's Distillery was established in 2010 with a simple goal in mind: create brands and products that embody the independent spirit and authenticity of the American West while supporting its local economy and residents. Founders Willie and Robin Blazer showcase local ingredients, regional flavor, and even friends and neighbors in their hometown to proudly produce world-class spirits. Willie, originally hailing from Appalachian moonshine country in western North Carolina, is a veteran of the United States Armed Forces and U.S. Forest Service, serving as an Army Ranger, Special Forces Medic, Hotshot Wildland Firefighter and Smokejumper.
10th Mountain Whiskey & Spirit Company - Rye, Bourbon, Moonshine, Vodka, Cordial -
The 10th Mountain Whiskey & Spirit Company is Vail, Colorado's premier distillery, crafting spirits from locally sourced ingredients in the name of the mountain lifestyle that was influenced by the original 10th Mountain soldiers. The patriotic men of the 10th brought diversity, courage, and hope to the Rocky Mountains when they arrived in the 1940's. The 10th Mountain Whiskey and Spirit Company is an extension of the mountain lifestyle, bringing together the old with the new. Not only is it a tribute to the 10th Mountain soldier, but it is also a tribute to those that enjoy the mountain lifestyle, living it fully, every day. 10th Mountain partners with the Vail Veterans program to support local veterans and involve them in the 10th Mountain bottling process.
Freedom Whiskey Co - Bourbon Barrel Rested Gin and Freedom Bourbon -
On a summer day in Helmand Province, Afghanistan (2011), Have A Shot Of Freedom Whiskey Co. was born. The Marines of Alpha Battery, 1st Battalion, 10th Marines engaged enemy forces with a barrage of artillery shells. Marines moved tirelessly to reload cannons as steel rain poured down over the mountain tops. Through the booming of the howitzers, the units Senior Staff NCO shouted, "Marines, enjoy this day! For those who fight to protect it, Freedom has a flavor the protected will never know!." Freedom Whiskey Co. is 100% Veteran Owned. They give back to the Fisher House, Semper Fi Fund, and the Marine Raider foundation.
Cocktail Recipe - Old Glory
Courtesy of Freedom Whiskey Company - for more recipes visit Freedom's recipe page
Ingredients
2x Shots of Freedom Bourbon
1 oz Sweet Lime Juice (Rose's preferred)
3 small splashes of Ginger Ale
Instructions
Mix and pour over ice. The sweet and smoky bourbon burn goes down the gullet flawlessly with a perfect hint of lime tang and the wonderful sweet flavor of some good ol' fashioned Ginger Ale. Be careful-- a double shot of Freedom is a double shot of Freedom! Drink responsibly.