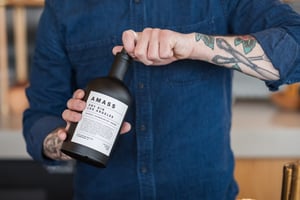 For the past several years, there's been a massive boom in the small-batch wine and spirits market. Younger generations of consumers have shown a preference for more authentic and personal brands, and the craft beer trend paved the way for exciting new liquor and wine brands to emerge.
Consumers are looking for new and unique alcohol brands. And these consumer desires influence how shelf space is utilized, inevitably altering the purchasing decisions of wholesale buyers
Small-batch wine and spirits producers have two distinct advantages within these target demographics:
1. They can capitalize on new trends. Note the hard seltzer frenzy. Demand for White Claw led other brands to rush their own unique version to market. Larger brands then produced their own spin on the alcoholic beverage trend and a year later we have a market full of hard seltzers. You can see this with bourbon, mezcal, and gin brands as well.
2. They can easily experiment. A small-batch Maker can easily take a "risky" flavor like strawberry jalapeno whiskey, make a small batch, and see how it performs on store shelves (and for the record: no, to the best of our knowledge, strawberry jalapeno whiskey does not actually exist… yet).
Within this fast-moving alcohol market, many large distilleries and wineries feel they can't compete within this new framework. First, traditional distribution can move at a glacial pace, at least in relation to flash-in-the-pan trends. Capitalizing on what's new and exciting requires a distribution model that's faster to market for new brands.
Large distributors will typically assign specific sales teams to one product or product line. These teams are incentivized to sell the products they're assigned to, which means pushing new products out onto store shelves is difficult. For brands, launching new products can mean redirecting salespeople's focus away from existing products.
The irony is that reaching these additional segments is THE KEY to growing an alcohol brand.
Large Makers need to reach the buyers. Furthermore, they need the ability to quickly capitalize on new trends and changing demands. Variety and experimentation are vital in today's market, and larger wine and liquor companies need paths to distribution that can handle this quick pace.
These are the reasons LibDib's platform makes perfect sense, even for large suppliers who already have national distribution in place.
It allows large Makers to experiment with new products and meet consumer needs with speed and efficiency— while keeping traditional distribution for legacy products intact. With LibDib, brands can test new product lines and flavor profiles in specific markets before pitching their distributor for more widespread distribution. After all, the first thing a large distributor will ask for when taking on a new brand is how well the brand is selling.
LibDib is also the fastest route to market, which means large distilleries and wineries can use it as a stopgap solution. There's virtually no red tape: once you have a licensed product ready to ship, you can test it in multiple markets virtually immediately. In LibDib's case specifically, there are no minimums, which means Buyers are more willing to try new products as they can purchase products once case at a time. Makers don't have products sitting in a warehouse either— with LibDib's model they only ship when there's an order. Every party can test performance before ramping up production or purchase requests.
We know three-tier distribution can be tricky. That's why we've designed our solution to service all types of alcohol beverage brands. It's a distribution solution that can work for everyone, whether it's filling a gap or acting as the primary method of distribution. That's also why RNDC has chosen LibDib as their key partner.
Looking for ways to get new products to market? Learn more about distributing with LibDib now.