A recently published article in Shanken News Daily Market Watch highlights consumers' thirst for RTDs, rosé wines, and high-end tequilas and how they are "poised to accelerate this summer." Buyers are certainly paying attention to these trends in the alcohol industry by stocking up for the season as customer demand jumps into high gear.
At LibDib, we love our emerging alcohol brands. When it comes to summer sippers, we have a selection that is tough to beat. Small production, creative products are now available this summer through LibDib's online distribution platform including an amazing canned tequila seltzer, cocktails in a conveniently sized (think cooler) box and a sophisticated tequila made from agave that's grown in red, volcanic soil.
Here are a few of our hottest selling summer drinks:
RTDs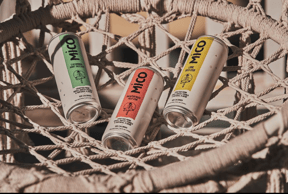 Mico Tequila Seltzers - Mico Tequila Seltzers come in cucumber mint, grapefruit and lime. The master distiller at Mico Tequila creates proprietary blends in small batches and she is an artisan who finds the optimal balance between smoothness + flavor, sweetness + spice. The Mico Tequila Seltzer is an expression of their meticulous dedication to the craft of tequila production. Gluten-free and only 100 calories, these tequila seltzers are made from 100% agave with natural flavors and sparkling water to create a refreshing and pure taste. Now available in CA, IL and NY via LibDib's alcohol distribution platform.
Carbliss - Early in 2018, the founders of Carbliss began a low carbohydrate and low calorie diet. They enjoyed hard seltzers but felt the mainstream offerings lacked flavor so they began hand-crafting cocktails using vodka, sparkling water and natural flavor extracts. This canned summer cocktail comes without the loads of carbs, sugars and calories of other popular seltzers and with smooth delicious flavor options like lemonade, lemon-lime, black raspberry, and cranberry. 0 carbohydrates, 0 sugars and only 100 calories. Now available in CA and FL.
Rosé
Avid Vines Rosé Champagne - With an impossible color achievement, this beautiful Rosé from Avid Vines comes from 100% Premier Cru Pinot--80% of which is a blend of Pinot Noir and Pinot Meunier pressed for its juice with as little skin contact as possible. The remaining 20% consists of the best Pinot Noir made - delicious and nearly opaque on its own, but blended to produce something greater than the sum of its parts. Now available through LibDib in CA and CO.

Archer Roose Rosé - Sourced from an award-winning, sustainable winery in the heart of Provence, France, this delectable wine blend is the answer to your "Rosé all day" fantasies. Cheers to looking at the world through glasses of Rosé. This summer wine is dry and fruit-forward with notes of strawberry, raspberry, and apricot compote. It is composed of 65% Grenache Noir, 24% Syrah, 8% Carignan and 3% Grenache Blanc. Now available in CA.
AvinoDos Rosé - AvinoDos' unique summer Rosé is fuchsia-orange color, crisp and focused with distinctive aromas of watermelon. The palette is rhubarb and fruit juice, with a surprising tannin structure of mineral and spice. Now available in CA.
We Go High Rosé - When competitors imitate your wine labels or people try to discourage you from reaching your goals, take Michelle Obama's advice, "When they go low, we go high." Love Cork Screw's "We Go High" Rosé is a vibrant coral color with hints of berry, almond, and citrus. It pairs perfectly with light pastas, salads, grilled fish, and goats' cheeses - perfect for summer. Now available in CA, FL and NY through LibDib.
Tequila
NUDA Ultra-Premium Tequila - NUDA Tequila is an ultra premium, 100% blue agave tequila meant for sipping and savoring. Produced using all natural flavors of the agave plant, and grown from red volcanic soil of Tequila Valley, NUDA is triple distilled and incredibly high quality tequila. Anejo, Blanco/Silver, Reposado, and Royal Premium are all available on LibDib. Now available in CA.

Tequila Kostiv - Every tequila produced by this distillery has been perfected over five generations by the Perez Ocampo Family, one of the oldest distilling families in Amatitan, Jalisco. Founder, Petro Kostiv, wanted to create a tequila that was 100% artisan tequila made with quality and handcrafted by those in the community who love their land of agave. It is his mission to represent the Mexican culture, its roots, flavors and textures through tequila. Now available through LibDib in CA, FL and NY.
Vuelo del Aviador Tequila - Vuelo del Aviador produces high quality spirits specifically for the tequila lover. The distillery offers award-winning artisanal tequila imported from Mexico including their Gran Reserva Extra Añejo, Gran Reserva Tequila Añejo, Reposado, and Plata. Now available in CA, CO, FL & NY.
Costa Tequila - Costa Tequila was founded with a mission to challenge conventional tequila. They pair traditional Highlands and Lowlands agave to deliver a more balanced, widely-appealing and longer-lasting flavor profile than other tequilas. This signature Hi/Lo blend is non-traditional, true, and delicious. Blanco and Reposado tequilas are now available in CA, CO, FL.
Sign up for LibDib's online alcohol distribution platform today and gain access to all of these summer wines and spirits--and more.
Free. Easy. Convenient.