For those of you who have yet to attend, it might seem like the stories from Tales of the Cocktail (or Tales as we call it in the industry) must be embellished. There's a lot of big name bartenders, authors and brand ambassadors that attend this annual event. But, do you actually get a chance to meet them? Are there really so many events you can't get to them all? Are the beignets really that good?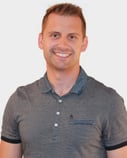 by Cody Wheat, LibDib Maker Success Specialist
In all seriousness, Tales is a huge event for our industry and this year's conference became a truly city-wide event, not just a French Quarter phenomenon. There are more networking opportunities than you can humanly attend, and with Breaking Bad stars Bryan Cranston and Aaron Paul as the big celebrity appearances this year (yes, they were making cocktails), it would have been easy to feel overwhelmed by it all.
Now that I'm back in the office, I want to share my experience with you in hopes that I can provide some insight to those considering attending Tales. In addition to their annual conference, they have a cool program called 'Tales on Tour' that we recommend you check out as well. Tales is doing a lot of great things!
Here are the top 3 things I learned at Tales of the Cocktail 2019:
Plans fail, but planning is everything - Going into Tales without a plan is a bad idea. You'll be completely overwhelmed by the number of options and will likely feel paralyzed to make a decision in any one direction. At the same time, don't try to always stick to your original plan. Plan your meetings and identify the events you want to go to. Be open to adjusting your plans.
Makers, I encourage you to go in with a plan of what you're looking to accomplish (super important to set up the bigger meetings you want ahead of time.) Just remember that you might end up being pulled in a direction you never planned--and that's okay. Explore new opportunities as they could be what you need to start gaining traction in any new market. This event is all about networking.
It's an opportunity to finally 'put a face to the name' - We're all busy which is why we turn to technology to help us do business and stay in touch. Luckily, LibDib allows Makers and Resellers to easily connect online using digital tools. All around Tales I heard countless folks having first-time, in-person meetings and it was a powerful reminder of the changing dynamics that we're facing in business today. Online opens the door for face-to-face connections that are powerful and contribute to long-lasting deals. Makers can turn those online relationships to in-person relationships by attending events like these or by working specific markets they have their products in. It's always about relationships and continuing to build them if you want to build your brand.
Brands that stay true, stand out - At Tales there are some huge brand events going on. It can be easy to look around and think: "How can I possibly stand out in all of this? I don't have this kind of budget!" The good news is that you don't have to play that game. Whether you're a Maker or Reseller, having a strong identity and knowing what you stand for is important. Authenticity is key, especially with this influencer audience. Make sure that both consumers and the trade know your brand. Stay true to your identity and you'll stand out.
There you have it. If you haven't been to Tales yet, I can't recommend enough that you go next year, or in the coming years. Our industry is rapidly changing, but conferences like Tales give us an opportunity to meet with folks from all over the world and be inspired by one another. We look forward to next year!