Everyone has been struggling as we balance our new realities. Many of us are turning to our favorite alcohol drinks to wind down at the end of a long work day. A cocktail or a glass of wine can help manage the stress of work, home and family--especially during a pandemic.
This is where working for a wholesale alcohol distributor has its perks. The distribution team at LibDib is lucky to have access to some of the best small batch wines and spirits around. Normally, we enjoy these products together. At the end of the work day, we gather in our office bar (named the Ish Bowl) while tapping on our keyboards and summarizing the highs, lows and everything in between.
Now that we are all working virtually, we've been continuing that tradition with virtual wine tastings and online cocktail hour with the team. We've been loving what everyone has been drinking. So much so, we wanted to share our favorites with you.
Here are the wine and spirits us LibDibbers are enjoying during quarantine:
Aaron Sholl, LibDib Accounting Manager
Drinks of Choice: Mammoth Whiskey and Distillery 291 Bourbon
Why: These are my two favorite small production whiskies right now and I'm enjoying them paired with my backyard bbq. Mammoth Whiskey is distilled and aged for five years in Kentucky and is finished in Grand Cru Merlot barrels. It has an elegant, warm bee's wax nose with notes of fresh shucked corn and honey backed by a smooth, low-alcohol finish.
291 Colorado Bourbon is made from malted rye, corn and malted barley mash. 291 is distilled in a copper pot still and barrel-aged for one year. It's finished with toasted Colorado aspen staves and bottled at barrel proof. This makes it a high proof bourbon whiskey with great depth and character.
Angelique Lopez, LibDib Buyer Experience Lead
Drinks of Choice: Embajador Blanco Tequila and 10th Mountain Rye
Why: Since I've been quarantined at home, my go-to cocktails (in my sweatpants) are, Embajador Blanco tequila and 10th Mountain Rye. I like to drink tequila neat with one ice cube or on occasion, a "skinny" margarita. The 10th Mountain Rye I enjoy in either an old fashioned (not too sweet) or with one ice cube, depending on what I'm feeling that day. I choose to drink these spirits neat because I like to savor the flavor. Why ruin a cocktail with mixtures when it already tastes so good?
Embajador Tequila Platinum Blanc is from Atotonilco in the Alto (Highland) Region of Jalisco, Mexico. This tequila has impressions of cooked agave and citrus fruits, followed by tones of mint, anise and sweet savory laurel leaves. They rest their Blanco in stainless steel vats for 40 days before bottling, which allows the spirit to develop its balanced personality.
10th Mountain Rye is a high-rye with a golden amber appearance. The nose has aromas of oak, dark fruit and light caramel, with a hint of cinnamon. The palate is spicy and full bodied with a touch of toffee. The finish is dry with lingering spice and oak notes. The 10th Mountain Whiskey & Spirit Company is Vail, Colorado's premier distillery, crafting spirits from locally sourced ingredients in the name of the mountain lifestyle that was influenced by the original 10th Mountain soldiers.
The patriotic men of the 10th brought diversity, courage, and hope to the Rocky Mountains when they arrived in the 1940's to train just a few miles south of what is now Vail. The 10th Mountain Whiskey and Spirit Company is an extension of the mountain lifestyle, bringing together the old with the new. I love the story behind this brand!
Brad Lasecke, LibDib Full Stack Developer
Drink of choice: Young & Yonder Spirits H.O.B.S. Gin
Why: I'm drinking H.O.B.S. gin as nothing beats a stiff dirty martini to stay healthy. H.O.B.S., is a modern craft gin with a balance of rich juniper, citrus and floral elements. It pays homage to the long-standing relationship between gin and its importance in naval history, reflecting the glory and peril associated with the life of a sailor. H.O.B.S. gin has taken years to refine and perfect, handcrafted with the highest quality ingredients.
The producer, Young & Yonder Spirits, is an artisan craft distillery based in Sonoma County, California. They are young and full of ambition and have put their blood, sweat and tears into pursuing their dream of building a craft distillery and to make great spirits. They try out new, novel techniques, flavors and experimentations to create exceptional distilled products for all to enjoy.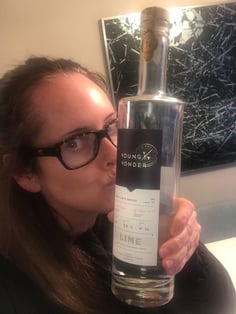 Cheryl Durzy, LibDib Founder & CEO
Drinks of choice: Young & Yonder Lime Vodka, Clos LaChance Cabernet Cabernet Sauvignon, Grenache and Hayes Valley Rose.
Why: Young & Yonder Lime Vodka is so good you can drink it straight up over a nice ice cube. It doesn't need any mixer or soda water. Their vodka is naturally gluten-free, super clean with a smooth finish. It's crisp and fresh, making it the balance for your next cocktail, whether you're mixing or enjoying it straight on the rocks.
Clos LaChance wines come from my family so easy access makes this my go-to but also because I love Central Coast wines. This AVA extends from the south of San Francisco all the way to Santa Barbara, California. And each sub-regions specializes in different types and expressions. Central Coast wines feel like home to me.
Sign Up and Discover Your Next Favorite Beverage