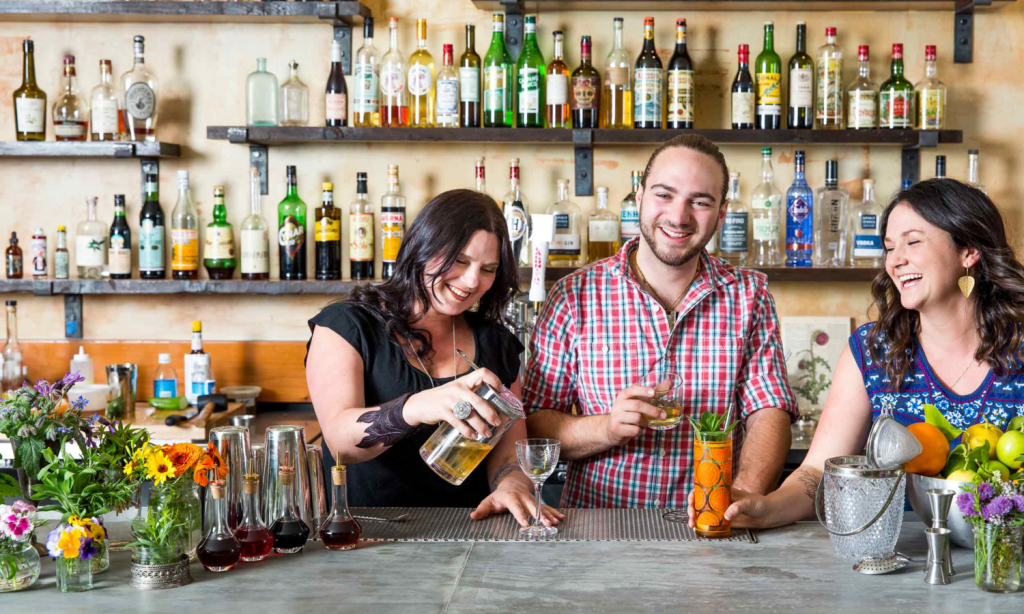 *Photo courtesy of Sipsong Spirits
Purchase Online Today Through Wholesale Craft Distributor, LibDib
John Emerald - Hugh Wesley's Barrel Aged Gin
John Emerald Distilling was founded by father and son, John and Jimmy Sharp in 2014 and LibDib distributes this craft liquor brand. The distillery is named for John Emerald Sharp, Jimmy's Grandfather and John's Father. Since the future of their family was the catalyst for opening the distillery, each product is named for a different ancestor in the Sharp family.
In line with their family history, JED set out to make John's Alabama Single Malt Whiskey which took their Scotish ancestry and melded it with American and Alabama traditions. As the distillery took shape opportunities for other products presented themselves. They began making rum utilizing locally grown sugarcane and gin made with wild foraged juniper berries.
A gin flavor profile that appeals to gin and non-gin drinkers alike
With Hugh Wesley's Barrel Aged Gin, John Emerald Distilling wanted to make a spirit that reflected the entrepreneurial spirit of Hugh Wesley Sharp, Jimmy's great-grandfather. They seeked unique ingredients like wild Alabama juniper berries, which allowed JED to craft a very special gin.
Hugh Wesley's Gin is distilled using a variety of botanicals that add in complexity. JED uses a separate gin basket during the distilling process to ensure a smooth demeanor. This also allows each individual botanical to thoroughly flavor the Gin during distillation.
This craft gin stands alone possessing a unique flavor profile that appeals to gin and non-gin drinkers alike. Whether enjoyed neat or in a craft cocktail Hugh Wesley's Gin provides an experience like no other. It's also the winner of four prestigious awards including: 2019, Silver Medal, Proof Awards, Las Vegas, NV; 2019, Silver Medal, San Francisco World Spirits Awards; 2016, Bronze Medal, American Distilling Institute; and 2015, Bronze Medal, New York International Spirits Awards.
Shop our online alcohol wholesale portal for your bar or restaurant for this exciting product.
Availability: John Emerald - Hugh Wesley's Barrel Aged Gin is now available in California via LibDib. Their other products including rum, vodka, and whiskey, are available in additional markets including California, Colorado, Florida, and New York. Licensed Resellers can buy online via LibDib.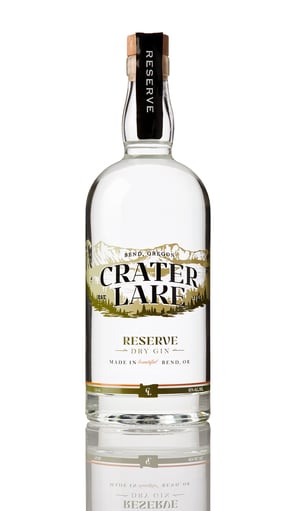 Crater Lake Spirits - Crater Lake Prohibition Gin
Out of Bendistillery comes the Crater Lake Spirits brand, a distillery reviving the tradition of handcrafted American distilled spirits. Crater Lake uses only the freshest natural ingredients and pure Cascade Mountain water. Now, nearly a quarter of a century later, they are proud to be one of the founders of the craft spirits revolution and still one of the largest independent brands with a full line of gin, vodka and on-site distilled whiskies.
The Prohibition-era compound gin
Crater Lake Prohibition Gin is a high proof, single botanical gin reminiscent of the American gins of the late 19th and early 20th century. This is an American Prohibition-era compound gin infused after distillation with wild handpicked juniper berries from the Central Oregon high desert. No other botanicals are used and Crater Lake Prohibition Gin is full and complex. It has a focus on whole berry juniper that tastes like the high desert after a summer thunderstorm - clean and crisp with just a hint of floral sage. The nose is pure and subtle without any perfuminess common in many gins.
If you are making a classic gin cocktail you need this classic gin. Gluten Free and Kosher, Crater Lake Prohibition Gin has received a number of accolades including: Gold Medal, Fifty Best Gins; Four Stars – "Exceptional", Beverage Experts; 91 points, Tasting Panel Magazine; Silver Medal, Seattle International Spirits Awards; and Silver Medal, World Beverage Competition.
Availability: Crater Lake Spirits - Crater Lake Prohibition Gin is now available in California, Colorado, Florida, and New York, via LibDib's craft liquor distribution portal. Their other products including vodka, rye whiskey and rye, can be purchased by Licensed Resellers via LibDib as well.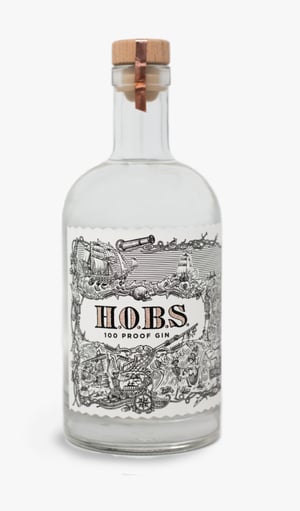 Young & Yonder, H.O.B.S. Gin
Young & Yonder Spirits is an artisan craft distillery based in Sonoma County, California. They are young, full of ambition and went yonder to explore the new and the different. They left the known for the unknown and put their blood, sweat and tears into pursuing their dream of building a craft distillery and to make great spirits.
From grain to shelf, they belabor every detail for quality and continually strive to innovate, trying out new, novel techniques, flavors and experimentations to create exceptional distilled products for all to enjoy.
H.O.B.S., or Harbor of Broken Souls, is a modern craft gin with a balance of rich juniper, citrus and floral elements. It pays homage to the long-standing relationship between gin and its importance in naval history, reflecting the glory and peril associated with the life of a sailor. H.O.B.S. gin has taken years to refine and perfect, handcrafted with the highest quality ingredients. It's a contemporary style gin that is rich, with balanced flavors of juniper, citrus, floral, and spices. With pot still style distillation, H.O.B.S. gin is a maceration of botanicals including juniper, coriander, angelica, lemon peel, lavender, hibiscus, bay leaf, and cardamom pods.
Availability: Young & Yonder, H.O.B.S. Gin is now available in California, Colorado, Florida, and New York via LibDib. Other Young & Yonder products are also available including vodka, absinthe and high-rye bourbon. Licensed Resellers can purchase all Young & Yonder products via LibDib.
This is a farmer owned and operated "soil to sip," whiskey distillery located in the heart of the Wild West. Their story begins in the fields of a farm that's been producing grain for generations. They distill their spirits using their own grain. From milling, mashing, fermentation, to distillation, aging, and bottling, Boot Hill maintains complete control over the entire process. With years of farming expertise, they have an eye for quality distillation that guarantees it's done their way, every step of the process.
Boot Hill Distillery Gin is a fresh and unique take on the growing New Western Dry Gin category. Each batch of their gin is vapor distilled in 100 gallon batches, ensuring that the final product is both complex and well-balanced. Boot Hill Gin features juniper, coriander, bitter orange peel, angelica root, orris root, licorice root, chamomile blossoms and just a tiny dash of sarsaparilla. It's brash and smooth enough to earn the Boot Hill name. The nose has a powerful burst of juniper up front with soft sweet hints of coriander and orange. Served neat, it has bright juniper notes that immediately flood the palate, with floral notes on the tail. On the rocks, the softer sweetness from the licorice and sarsaparilla roots and floral flavors of the gin press forward, with a citrus snap.
Availability: Boot Hill Distillery Gin is now available in California and Colorado via LibDib. They also offer whiskey, bourbon, bitters, and vodka in both states.
Sipsong means to follow your intuition, your inner wisdom, and this is a gin you sip to slow you down and hear your inner wisdom. Located in Sonoma County, California, they are fortunate to be surrounded by all things rich in flavor, whether it be food meticulously prepared by some of the worlds finest chefs, or world class wineries. The founder, Tara Jasper, grew up in this flavor-topia and has spent the last 40 years traveling the world, yet has always found herself returning to this place of abundant epicurean bliss.
Sipsong is 'Distilling The Moment,' creating moments when you taste something you never want to forget, whether it be a cocktail that found just the right balance or the perfect gin for your tonic. They craft small batch spirits for the most refined palate in search of that moment of pure bliss.
A Botanical Gin That's One of a Kind
In the beginning, Sipsong started with Tara making liqueurs at home for friends and family. The results of these projects and their reactions fueled her fire. While reading a book about long lost liqueurs and gin Tara became inspired to begin crafting her own gin. After many months of daily distillation of every botanical she could think of, she worked towards the finest quality extraction in a base of grape spirit. Tara then traveled to Europe in search of some of the world's best gins. When she returned to California she decided she was ready to blend her own. Completely in her element she literally skipped to work during this portion of the recipe development. The result of this is Indira and exciting and exotic gin that is one of a kind.
One hot summer day Tara was gathering with some friends. One of them happened to be the famed mixologist and author Scott Beattie, Artisanal Cocktails. Scott wanted to try what she had been making. To say Tara felt intimidated is an understatement here, but she didn't let fear stop her. She served him her favorite blend thus far. His reaction brought her to tears, he loved it. It was unlike any other Gin he had tried, which had been her goal. To make something unexpected, and just perfect for a G & T. Coming from him this gave her the confidence to bring this first Gin to the market and to work on crafting more. He kept coming back to taste this first Gin again and again and this was how the first release of Sipsong was born.
Indira gin is meant to be a sipping quality spirit. It has a spectrum of flavor including Italian Juniper, angelica root, orange, bay, lavender, pink peppercorn, lime, coriander, cardamom, hibiscus, cumin and kaffir lime. Indira has a full range of botanicals meant for a balanced experience for every part of your palate.
Availability: Indira Gin is now available in New York and California via LibDib. Buying wholesale alcohol online has never been easier, especially for this product!
A gang of industry iconoclasts, Letherbee Distillers came together through a twist of fate, punk shows, and late­ night drinking at local dives. Rewind to 2007: Brenton Engel is cooking moonshine in his basement. Two years later, his "Illinois Joy '' moonshine would create a cult following outside neighborhood bars and with restaurant cooks across the city. Brent soon started bartending and cohorting with some of Chicago's most experienced cocktaileurs who would soon team up to become Letherbee Distillers.
With absolutely zero influence from outside investors or marketers, Letherbee's level of authenticity is second to none. Now distributing across the US, as well as Europe, the product family consists of the Original Label Gin, Barrel­-Aged Absinthe, Autumnal & Vernal Gins, Bësk, and Fernet.
Few gins unfold like Letherbee's flagship tipple — grain-neutral spirit based, one-shot distilled by hand with a clean yet robust blend of 11 botanicals. Juniper berries spearhead a mélange of spices, including coriander, cardamom, and cinnamon, while cubeb berries evoke a touch of pepper and a hit of ginger in the finish. Dried lemon peel and orange pith lend the dry, balanced concoction a bit of room for keen drinkers to pick up subtle notes of licorice and almond. At 96 proof and non-chill filtered, Letherbee Gin shines in all contexts, whether sipped straight, louched with a few drops of water until slightly cloudy, or mixed in a refined cocktail.
Availability: Letherbee Gin now available in California and Wisconsin via LibDib. LibDib also sells their barrel-aged Absinthe, Bësk and Fernet.