May has been the month of rum over here at LibDib. We've been enjoying amazing, delicious hand-crafted rums in our ish-bar
(that's the nickname of our awesome office bar).
LibDib now offers around 100 craft rums. We have silver, white, amber, aged, and spiced rum. We offer rum from California, Cape Cod, Hawaii, Kentucky, Louisiana, Massachusetts, Mexico, New England, Puerto Rico, South Carolina, Utah, Vermont, Washington, and more. If you want more details on our rum revolution, you can read about it
here
. Needless to say, we love rum.
If you're already signed up on LibDib all you have to do is sign in and click on "Rum" in the "Spirits" section. If you're a Reseller who hasn't yet signed up for LibDib, we'd like to know what you're waiting for?! Seriously, it's free and only takes a minute to sign up. In no time, you can be shopping online for craft spirits and small production wines. Just ask one of the hundreds of Resellers who buy from LibDib every week.
Enough talk. Let's get down to summer cocktails. Here are a few of our favorite rum recipes from our Makers.
Maggie's Farm, Allegheny Distilling
Allegheny Distilling is located in Pittsburgh's historic Strip District. Maggie's Farm Rum is one of the most awarded rum distilleries in America with nearly 70 awards. Distilled from turbinado they produce their rums using Caribbean-derived yeasts with long fermentation times. The only thing better than their rum is their creative cocktail recipes.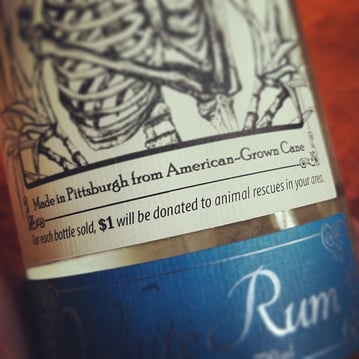 Maggie's Farm Fizz (Courtesy of Maggie's Farm/Allegheny Distilling*)
1½ oz Maggie's Farm White Rum
1 oz Fresh Squeezed Lemon Juice
½ oz Simple Syrup– ½ oz Cream Soda
1 Large Egg White (about an ounce)
Combine ingredients in a shaker, without ice. Dry shake for 20 seconds. Then, add 4 oz of ice and shake vigorously. To serve, first pour ½ oz of cream soda in a chilled highball glass. Then, strain the shaker into the glass and garnish with a lemon zest.
Tom Selleck (Courtesy of Maggie's Farm/Allegheny Distilling*)
1½ oz Maggie's Farm White Rum
1½ oz Maggie's Farm Coffee Liqueur
Combine and shake vigorously. Pour over ice in a 9-10oz glass and top with premium cream soda.
*Recipes borrowed from http://maggiesfarmrum.com/cocktail-recipes
"Copper" in the name represents the custom copper pot used to produce Copper Fiddle's delicious bourbon and rum. All of their spirits are handcrafted at the distillery in Lake Zurich, Illinois. They produce their rum using the finest cane sugar and backstrap molasses. It's distilled the traditional way using their American made, solid copper pot. Flavorable, delicious. Oh and their take on a Cuba Libre is out of this world.
Twisted Cuba Libre (Courtesy of Copper Fiddle Distillery*)
0.75 oz Copper Fiddle Gold Rum
0.75 oz Copper Fiddle Silver Rum
Juice from a lime wedge
Juice from an orange wedge
Coca-Cola
Add ingredients to a glass, top with Coca Cola.
Is it summer yet? (Courtesy of Copper Fiddle Distillery*)
1.50 oz Copper Fiddle Silver Rum
Juice from half of a lime
0.50 oz watermelon syrup
Soda Water, lemon garnish
Shake all the ingredients, except the soda water with ice, and pour into a Collins glass. Finish by topping with soda water.
*Recipes borrowed from https://copperfiddledistillery.com/drink-recipes/
Manulele Distillers, Ko Hana KEA Rum
Kō Hana is the maker of Hawaii's only Agricole rum. They are a small batch, farm-to-bottle distillery. They grow only heirloom Hawaiian sugar cane on their own farms that are the rarest of all sugar canes With over 30 different sugar canes in their collection, they harvest, crush, ferment, and distill in single varietals to capture the essence of each cane. With that, here's a couple recipes straight from Hawaii to kick off your summer.
Bright & Sunny (Courtesy of Manulele Distillers*)
2 oz KōHana KEA or KOHO Agricole Rum
Ginger Beer
Bitters
Add KōHana Rum to crushed ice
Top with ginger beer and a couple dashes of bitters
I Know KEA (Courtesy of Manulele Distillers*)
1 1/2 oz Kō Hana KEA Agricole Rum
Juice of half a lime
4 basil leaves
1/2 oz elderflower cordial
Add all ingredients to tall glass
Muddle basil
Add ice
Top with soda water and enjoy

*Recipes borrowed from https://www.kohanarum.com/cocktails