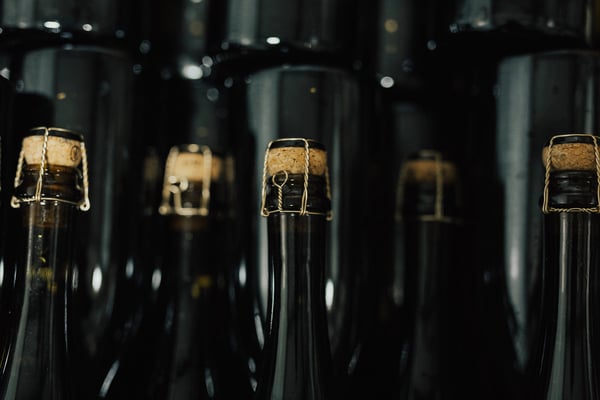 Bubbles. Sparkling Wine. Prosecco. Champagne. There's so many names for one of our most favorite products.
If you're a restauranteur, bartender, mixologist or retailer, you're probably furiously stocking your shelves with sparkling right now. And when it comes to bubbles your customers love small production wines with a great brand story.
LibDib now has almost 100 small production sparkling wines on our online wholesale alcohol platform. Sparkling wines from California, Israel, Italy, New York, New Zealand, Oregon, South Africa, Spain, and Washington.
Here's a look at our top sellers:
Alexandrie Cellars, North Coast White Sparkling (50% Chardonnay, 50% Pinot Noir) - From the North Coast of California comes Alexandrie, a charming sparkling wine that jumps out of the glass with aromas of apple meringue, fresh cut apricots and green figs. The primary character evolves to aromatic notes of Asian pear cider wrapped in yeasty bread dough. Flavors of cantaloupe, baked apple tart and ground nutmeg, are perfectly balanced by the bright character of ripe clementine tangerine, Meyer lemon and Key lime and finishing with a generous linger of toasted brioche and lively mineral acidity. With a beautiful flowered bottle, these bubbles are perfect for any occasion. Now available in California and New York via LibDib.
Bodegas Mocén, n/v Añ Brut Nature Methode Traditional, Rueda, Castile and León, Spain (100% Verdejo) - Widely recognized with Gold medals in international competitions, Mocen selections can be found in top restaurants worldwide, airlines such as Iberia, Lufthansa and Finnair, and is also one of the white wines used by the Spanish Royal house. The second fermentation is done in the bottle for nine months with zero sugar dosage. Now available in New York via LibDib.
Breathless Wines, Brut, North Coast, California (50% Pinot Noir, 46% Chardonnay, 4% Pinot Meunier) - Breathless Brut's fine mousse paints the palate with a light, refreshing effervescence. This wine has pink grapefruit, green apple, and citrus flower aromas with just a hint of yeast. With a smooth and satisfying finish. Purchase this for your business through our online alcohol wholesale program available in California via LibDib.

Chateau Diana, Chateau Diana Italy Sparkling Moscato (100% Moscato) - The Chateau Diana Sparkling Moscato is a delightful wine that will tickle your taste buds. As you pour this into a glass, the effervescence releases this wine's delicate perfume of orange blossoms and fresh citrus that will surely put a smile on your face. This is a delicious blend of exotic fruit flavors and sweetness served up in a pleasing light style. Well-balanced with a crisp and clean finish. This sparkling bubbly is loaded with peach, mango, and honey flavors. An elegant addition to your brunch table or to serve on a casual evening after dinner. Now available in California via LibDib.
Clos LaChance, Reserve Amber's Cuvee Sparkling Wine, Santa Cruz Mountains, California (100% Pinot Noir) - The Ambers Cuvee was the first Sparkling Rose ever created by Clos LaChance Vineyards. The grapes for the Sparkling Wine were sourced from select Pinot Noir Vineyards throughout the Santa Cruz Mountains. The Sparkling is made in the traditional method and was made of 100% Pinot Noir grapes, giving it that beautiful light pink hue and adding great complexity to the aromatics and profile of the wine. Now available in California, Colorado, New York, and Wisconsin via LibDib.
Contessa Annalisa, Contessa Annalisa Collection Prosecco, Veneto, Italy (100% Prosecco, Kosher) - This Kosher Italian wine is produced with soft crushing, fermentation in stainless steel under controlled temperature of 18°C and natural fermentation of Charmat method. It has pale straw yellow color with green hints and a delicate nose with fine fragrances. Fresh on the palate with good acidic balance. Now available in California and New York via LibDib.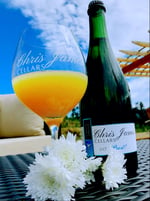 Chris James Cellars, 2017 Prost! Willamette Valley, Oregon (53% Porter'sPerfection Apple Wine, 47% Gewürztraminer) - An aromatic dry sparkling wine with notes of apple, perfume and citrus. Very small production, with just 90 cases produced. Now available in California and New York via LibDib.
Dennigmann, Bel Air Bellini, California - This is a Charmat method cuvèe sparkling wine. The grapes used are sourced from multiple varieties, vintages, and California Coastal appellations in order to assure the consistent quality of every bottle. Bel Air Bellini is infused with an all-natural peach essence, which gives it a fragrant, fresh peach nose. The peach aromas and flavors are balanced by a demi-sec body, as well as traditional sparkling wine flavors of pear, green apple, and toasted vanilla. The light rosè hue is obtained naturally by contact with red grape skins. This is a quality sparkling wine in every regard, appropriate for pouring at special events, brunches, with meals, or simply by itself. Now available in California via LibDib.
Dream Line, Dream Line Silver Glaciar, Spain - An author's white wine, clear, bright with an attractive bursting effect of bronze colour in conjunction with the slow release of small bubbles. Fine and persistent perlage. A clean nose, appetising and lightly fruity. Sparkling in the mouth, fruity, semi-sweet, fresh and slightly acidic. The first taste is very pleasant, faintly reminiscent of French Champagne and Spanish Cava. Now available in California via LibDib.
Equality Wines, Love Wins, Russian River Valley, Northern Sonoma, North Coast, California (100% Chardonnay) - Equality Wines is the world's first cause wine portfolio dedicated to equality for all people. It's a perfect pairing for label co-founders Matt Grove and Jim Obergefell, the courageous plaintiff in the Supreme Court Same Sex Marriage case. Both share a passion for excellent wine and equal rights. We present a limited release collection of high quality wines to benefit the Human Rights Campaign and the nonprofit organization The League of Women Voters. Now available in California and New York via LibDib.
Flying Goat Cellars, 2015 Goat Bubbles Rose Sparkling wine, Santa Maria Valley, Central Coast California - A hint of fresh grapefruit first tantalizes your nose. Then Freestone peach appears on the nose and finishes on the palate. There are also tropical notes on the nose and palate; perhaps a hint of pineapple. You may also notice red apple on the palate. This is the perfect wedding cake sparkler so be sure to toast the blushing bride. Other pairing options include eggs Benedict, quiche Lorraine, lox and bagels or berry tart with marzipan pastry. Now available in California via LibDib.
Fox Run Vineyards, Blanc de Blancs, Finger Lakes, New York (100% Chardonnay) - Hand-picked grapes were whole-cluster pressed, with only the most delicate juice being used for the sparkling wine. Fermentation in three-year-old barrels, followed by a partial malolactic fermentation, added flavor and aroma complexity without distracting from the perfumed Chardonnay fruit. Aromas of toast, honey and nuts with lemon zest in the background. Rich but zingy in the mouth, with persistent fine bubbles and a lemony finish. Now available in California via LibDib.
The Grenachista, 2018 Grenache Blanc Pét-Nat, Dry Creek Valley, Northern Sonoma, North Coast, California (100% Grenache Blanc) - Pale pink, a breathy wisp of pink, Gewurztraminer pink, cloud pink, not even CLOSE to the lightest rosé you've ever seen in your life. Wet cider-y nose, notebook paper and sun-bleached potpourri, delicate florals play with sweet apple and a nose-tingle. In the mouth, thick mousse carries more rich pear and apple–sharp and punctuated below 50° but rich and sweltering above, still with plenty of acid and spritz to carry it all off seamlessly. Not super-gassy, no super-sediment, this is definitely one of the more refined versions. Now available in California and New York via LibDib.
Hillersden Wines, 2017 Sparkling Sauvignon Blanc - Clean. Crisp. Bright. A combination of melon, tropical fruits and lime zest, along with an elegant seam of acidity, and a refreshing effervescence. This crisp, vibrant wine elevates classic Marlborough Sauvignon to celebratory levels. A perfect partner to the freshest of seafood, particularly oysters. Equally delicious on its own, and imperative where there is cause to raise one's glass. Now available in California via LibDib.
Les Vignes de L'Arque, Blanc de blancs, Champagne, France - Les Vignes de l'Arque were started in 1994 by Mr Fabre and Mr Rouveyrolles, two winegrowers who wanted to continue sharing their know-how transmitted from generations to generations. With more than 80 hectares in AOP Duché d'Uzès, IGP Pays d'Oc, et IGP Cévennes is now managed by Mr Fabre's son. The winery spreads among 4 different villages. Plain and hills, the wines Plaines ou coteaux, the wines received an outstanding sunshine: required for naturally fruity wines, from fine grapes. Several vines are grown on these various soils to create their unique wines : Merlot, Cabernet Sauvignon, Roussanne, Viognier and Muscat. Now available in California via LibDib.
Longridge Wine Estate, Longridge Brut Methode Cap Classique, South Africa (100% Chardonnay) - Made in the Methode Cap Classique, they follow organic practices. The fruit is handpicked in small picking bins to ensure that perfect grapes reached the cellar. The Chardonnay was tank fermented with native yeast before being bottled. Secondary fermentation was induced in the bottle and matured on the lees for 40 months with 9 days of remuage, prior to disgorgement. Only free run juice used to create this elegant Cap Classique. A lingering and vibrant mousse brings to the surface flavours and aromas of toasted brioche, roasted almonds and barley, with hints of green apple. The elegant mouth feel ends off with a fine and fresh minerality. Now available in California and New York via LibDib.
Maison Jussiaume Wines, 2016 Chardonnay, Rogue Valley, Oregon (100% Chardonnay) - Maison Jussiaume specializes in handcrafted sparkling wine, rigidly following the traditional and demanding Champenoise method of production. Winemaker Jean-Michel Jussiaume inherited his passion for the art and craft of winemaking on his family's estate in the Loire Valley of France. In 2005, he arrived in the USA with the dream of sharing these artisanal family traditions, and establishing his own "Maison." This quest ultimately led to Southern Oregon, where he found grapes uniquely suited for the production of Handcrafted Sparkling Wine.Aged-on-lees for over 17th months, this cuvee is defined by its freshness, elegance, and complexity. Now available in California and New York via LibDib.
Naked Winery, Frisky Sparkling Wine, Willamette Valley, Oregon (100% Chardonnay) - Naked Winery is on a mission to cut America's divorce rate in half by inviting couples to shut off the electronics and share a glass of wine with each other nightly. They produce premium class Oregon and Washington wines, with exotic brands and provocative back labels that are just a bit risqué. This brut sparkling wine is made in prosecco style. Early season pears mingle with white peaches and reveal fresh green apple and a touch of grapefruit when tasted. For an afternoon treat, try a Frisky Bellini. Now available in California and New York via LibDib.
Nasty Woman WInes, Boss Lady Bubbles, Washington (100% Riesling) - These wines are unapologetically tasty and designed to celebrate women while energizing people for a cause. 20% of the net profits will go to help accelerate global progress towards women's equal participation in policy and leadership. Now available in California and New York via LibDib.
Viaggio Winery, California Classic Sparkling (100% Chardonnay) - This is Brut Sparkling Wine with a hint of sweetness. Viaggio Estate & Winery is located in the heart of Lodi Wine Country, nestled among lush vineyards and walnut orchards who share one stunning backdrop, the pristine Mokelumne River. A family-owned destination for wine lovers, Viaggio combines unparalleled natural beauty and meticulously handcrafted wines with comfortable elegance and gracious hospitality. Now available in California via LibDib.
West+Wilder Canned Sparkling White (Sauvignon Blanc, Chenin Blanc, Pinot Gris, and Albariño) - This crisp sparkling white is sunshine in a can. The lively green papaya, jasmine, and lemon lime zest signal refreshment. The majority of fruit for this wine comes from coastal Sauvignon Blanc, Chenin Blanc and Albariño, with small touches of Grüner Veltliner and Pinot Gris to focus the palate. Pleasingly graceful with its playful acidity and balance, this wine is delightful to drink and turns heads with its style. Now available in New York via LibDib.
Wetzel Estate Cuvee Blanc Sparkling Wine, Willamette Valley, Oregon (98% Riesling, 2% Muscat) - This vibrant and festive sparkling wine has attractive green apple aromas. The mouthfeel and finish are fresh and bright with a touch of sweetness that plays off the crisp acidity. A truly celebratory bottle of bubbles perfect for any noteworthy occasion. Serve with Brunch food such as cold fish, fresh fruit, shellfish, oysters or just to celebrate life. Now available in California and New York via LibDib.
LibDib brings small production wines easily to any business through our alcohol distribution platform online. If you're an alcohol reseller looking to upgrade your shelves, look no further than our no commitment distribution.
Ready to up your wine and spirits game?
Join LibDib! There's no obligation to join.